Latest Webcast Recording
From August 18, 2019 at 10am USA Mountain Time

A recording will be available for 72 hours after the webcast ends.  Webcast replays will be posted for 72 hours.
If you get a message that "This video is unavailable," it means the webcast recording is offline until it comes back on for replay.
If you would like to know more about what a Group Audio Attunement is, click here.
Subscribe here to be to notified of future webcast events and replays.
For all events, including Special Events, check the Events Calendar here.
To find the date/time in your area, here is a useful tool to convert from USA  Mountain Time to your time zone:  https://www.timeanddate.com/worldclock/converter.html
Upcoming Webcasts and Special Events

Goes Live August 18, 2019 at 10am USA Mountain Time

Special Event Webcast: "Aligning the Soul Body"
* Saturday September 14, 2019 at 5pm USA Mountain Time *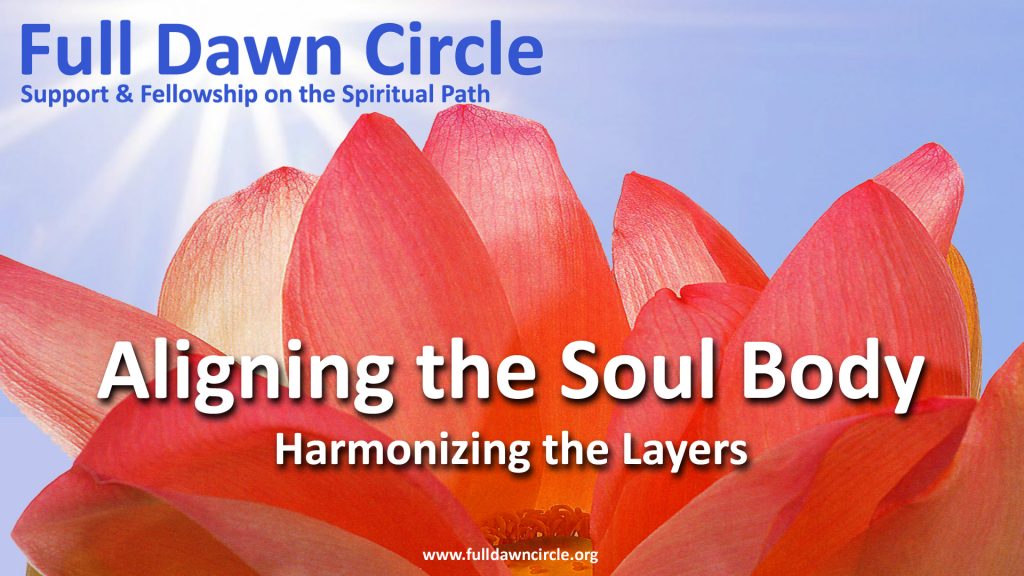 If you have participated in a Group Audio Attunement, you are familiar with the frequencies provided by Divine Intelligence and how they attune you to be more receptive to the Presence of the Divine.  (If you have never attended a Group Audio Attunement, you can learn more about them here.)
This webcast special event, "Aligning the Soul Body," is also based upon frequencies provided by Divine Intelligence, but the intention is to align the dimensions of your soul body by directly invoking the natural flow of the Divine and it's Presence in a specific sequence.
This event requires subscription to the Full Dawn Circle email list to attend. If you are already a subscriber there is nothing you need do. If you are not already a subscriber to the email list, click here.
Of course attendance is free, although donations are welcome (click here to make a donation).
All subscribers to the email list will receive an email at least 2 hours before the event with web links to attend live or access the recording.
(FYI, this event is about 45-50 minutes long compared to the approximately 30 minutes typical of a Group Audio Attunement.)