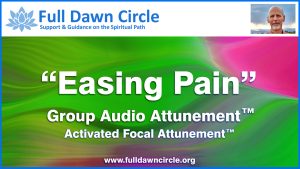 WELCOME TO
EASING PAIN
ACTIVATED FOCAL ATTUNEMENT™
Pain comes in many forms.  This Activated Focal Attunement™ is intended to relax and soften the "tightening" we often do around pain to support pain reduction..
Activated Focal Attunements™ are a form of meditation containing frequencies in flow intended to awaken and harmonize subtle energies native to your spiritual nature to support you.
These attunements make use of your attention and your intention to activate the supportive qualities of each attunement.
These attunements are not intended to treat health conditions, or to substitute for professional medical or mental care or treatment.
Sign up for Easing Pain Activated Focal Attunement™. Sign Up HERE.
To help support Full Dawn Circle, a modest $8 for one month access will be charged.
(Signing up for any course, event, or membership is subject to our Terms and Conditions.)
If you are already registered for Easing Pain Activated Focal Attunement™, login HERE.